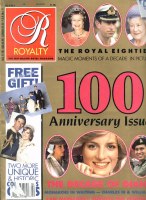 Vol 9 #4: Historic Issue, British royals, Grand Duke Jean celebrates 25 years of reign in Luxembourg, Royals of Monaco, Duchess of Kent, Victorias Grandchildre, A Decade of Diana, and so much. VHTF. $10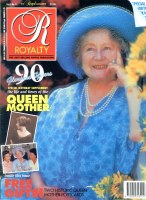 Vol 9 #11: British Royals, Queen Mother at 90, Royals in Canada, Princess Caroline of Monaco, Duchess of York, Queen Beatrix joins the Garter Ceremony, Queen of Spain, Queen Margrethe of Denmark, Swedish Royal Family, Royal Wedding in Japan(wedding of Prince Aya and Kiko Kawashima), Princess Alice Countess of Althone, Princess Margaret, The Romanov's and Rasputin, and so many more royals. $8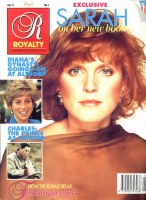 Vol 11 #1: The British Royals, Prince Charles and Diana, Royal Fashionwatch, The Spencer Dynasty, Catherine: The Peasant and the Tsar, Crown Prince of Japan, Birthday Party for Prince Harry at 7, Swedish Royal Family, Prince Edward tackles Macbeth, Grand Duke Vladimir Kirilovich, and so many more royals. $7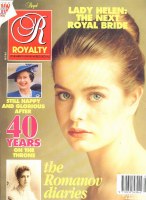 Vol 11 #5: The British Royal Family, Princess Diana and the royal at Sandringham, Princess Caroline of Monaco, Queen Elizabeth celebrates 40 years on the throne, The Romanov diaries(Alexandra and Nicholas), Fashionwatch on the Elizabethan Era, Lady Helen engaged, Princess Alexandra of Kent and her rebel daughter Marina, Prince Galtizine, and so many more royals. Mags in pristine condition. $8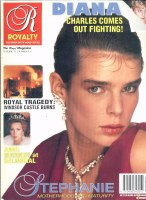 Vol 11 #12: The British Royal Family, Fire at Windsor Castle, The Year that rocked the house of Windsor, Princess Stephanie of Monaco....Motherhood and Maturity, Charles and the women in his life before Diana, Grand Duke Mikhail....Tsar for a day, Diana in France, The 6 wives of Henry VIII, Royal Engagements, Letters to the editor and so many more royals. except for a small rip at the bottom binding of the mag, the mag is in excellent shape. $7
Vol 12 # 1: Diana, The British Royal Family, King Hussein of Jordan(1 pg), Queen Beatrix and Prince Claus of the Netherlands, Sarah Ferguson Duchess of York, Charles and Diana........A look Back(7 pgs), Diana......Through the years(18 pgs), Stephanie of Monaco gives birth(4 pgs), Princess Anne and Timothy Laurence Wedding( 8 pgs), Jean Baptiste Bernadotte(6 pgs), A Summer of Royal Style(8 pgs),and so many more Royals. Mag has a tiny rip at the binding but other than that it is in great shape. $5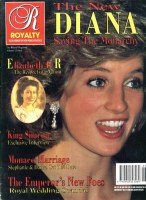 Vol 12 #6: Lady Helen Taylor, The British Royal Family, Princess Stephanie to Marry?, Princess Margaret's son opens shop, Royal Wedding of Masko Owada and the Crown Prince of Japan, King Simeon of Bulgaria, The Queen's coronation in 1953, Lady Raine Spencer(Stepmother to Diana), King George I of Greece, and so many more royals. Mag has creases at binding. $5.50
Vol 12 #9: The British Royal Family, Divorce for Charles and Diana(8 pgs), Princess Margarita of Romania(6 pgs), Death of King Baudouin of Belgium........a look back(8pgs), A Look Back at Prince Baudouin(4 pgs), Queen Fabiola of Belgium....the woman who made the sad king smile(6 pgs), Victor Emmanuel of Italy(6 pgs), Royal Wedding Of David and Serena(12 pgs), Queen Mary of Great Britian(8 pgs), and so many more Royals. Mag has a small rip at binding and creases along binding. $8 (2 ISSUES AVAILABLE).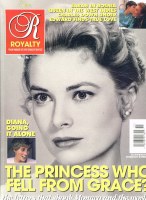 Vol 12 #11: Prince Edward and the British Royal Family, Princess Grace of Monaco, Grand Duchess Ella Romanov, Duchess of York in Bosnia, Diana.......A Princess Alone, Duchess of Kent, Prince Charles in Austrailia, Queen Elizabeth in the Caribbean, Catholics and the British line to succession, Royalty Bookclub and so much more. Magazine has creases at binding. $8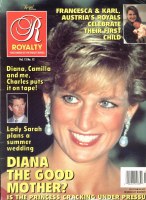 Vol 12 #12: The British Royals, Princess Diana, Queen Silvia of Sweden, Queen Giovanna of the Bulgarians, King Constantine of Greece, George IV, Queen Elizabeth's 68th birthday, Lady Sarah Armstrong Jones to marry, Francesca of Hapsburg......motherhood, The Knights of San Francisco, Ruth von Bismarck, Caroline von Brunswick, and so many more royals. Mag is in excellent shape. $8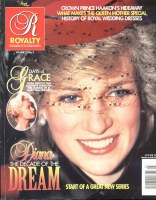 Vol 13 #3: British Royals, Princess Grace of Monaco, Crwon prince Haakon of Norway, Diana Princess of Wales, Queen Mum, Royal Wedding dresses, Sarah Duchess of York, Swedish Royal Family, Prince Felipe of Spain, King Hussein makes peace with Isreal after 46 years, the House of Montenegro, Royal Wedding of Prince Constantin of Bulgaria and Maria Garcia de la Rasilla, Lady Helen Taylor leaves hospital after birth of her first child, Queen Noor of Jordan and many more royals. $8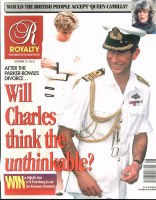 Vol 13 #8: Lady Helen Taylor, King and Queen of Spain, Queen of Sweden, Prince Charles, Queen Beatrix and Prince Claus of the Netherlands, Captain Peter Townsend, Queens of Belgium, Royals of Monaco and Spain, Willem Alexander of the Netherlands, Restoration of Windsor Castle, Charles and Camilla, Palaces of the World, and so many more royals. $7 (2 ISSUES AVAILABLE).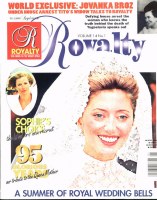 Vol 14 #1: A Summer of Royal Weddings(Pavlos of Greece and Marie-Chantal Miller, Princess Stephanie of Monaco and Daniel Ducruet, and a royal wedding in Portugal), 95th B-day of the Queen Mother, Diana, Princess of Wales, The Windsor Women, Princess Margaret, Pics of Anne Frank, Peter of Yugoslavia and Alexandra and so many more royals. $10 (2 ISSUES AVAILABLE).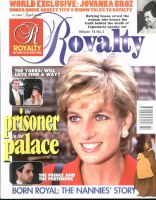 Vol 14 #2: British Royals, Jovanka Broz, Duke and Duchess of York, Peter Philips, Queen Margrethe and Prince Henrik of Denmark, Queen Paola of Belgium, Prince Charles in Oman, Prince William the last best hope for the Windsors, Princess Victoria of Sweden, Princess Marsha Magalof, Crown Prince Muhammed of Libya,Alexei of Russia, Royal Nannies, and so many more royals. $8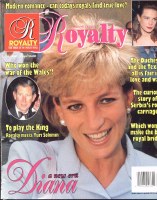 Vol 14 #5: Bulgaria's Royal Wedding(Kardam and Miriam Ungria), Prince Jorge;s return to Georgia, Duke and Duchess of York, King Simeon returns to Bulgaria, Charles and Diana, Yuri Solomin, Prince Kyril: History's Victim(Bulgaria's Last Ruler), HRH Princess Patricia, Princess Desiree of Sweden, and so many more royals. $9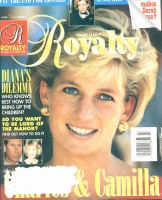 Vol 14 #7: Prince Carl Philip of Sweden, British Royal Family, Princess Diana returns to Austrailia(6 pgs), Quen Elizabeth in Thailand(8 pgs), Princess Victoria.....later Empress of Germany(4 pgs), Sarah Duchess of York(2 pgs), and so many more Royals. Aside from the rip on the front where the previous owner removed an address lable......the mag is in great condition. $3.50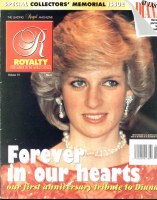 Vol 15 #6: The British Royal Family, Russia buries its murdered Tsar and family, The Baby Monarchs.......All our Yesterdays, Diana......A Commemorative. Practically the entire mag is dedicated to the late Princess of Wales. Mag is in excellent condition except for creases at the binding. VHTF. $10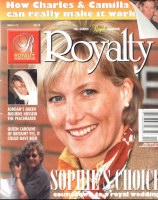 Vol 15 #10: British royals, Sophie a countdown to the wedding, Caroline of Monaco, Queen Noor of Jordan, Pavlos and Marie Chantal of Greece, Sarah and Prince Andrew, Prince Rostislav Romanov, Jordan Mounes King Hussein, Charles and Camilla, The Romanov's, King Faisal of Saudi Arabia, and so many more. $7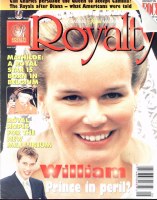 Vol 16 #5: The British Royal Family, Prince William........a prince in peril, Royal Wedding Belgium, Montenegro.......The struggle for an identity, Will the Queen Accept Camilla, Queen Victoria of England at 18, Queen rania of Jordan, Royal hopes for the millenium, and so many more royals. $8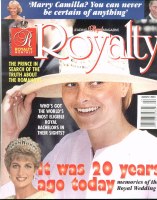 Vol 17 #2: Martha Louise of Norway, Caroline and daughter Charlotte, Edward VIII, Marie Chantal and Pavlos ..baptism of their son Konstantine Alexios, Prince Harry, British Royals, Prince Emmanuel Filiberto, Swedish Royals 25th wedding anniversary, Lady Helen Taylor, Leila of Iran, the Worlds eligible royal bachelors, Prince Michael Romanov, Diana and Charles........20 years ago, Prince Philip at 80, King Simeon of Bulgaria, Tragedy in Nepal, Princess Alexandra of Kent, and so many more royals. $7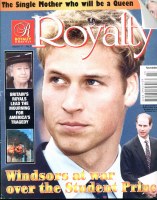 Vol 17 #3: Prince Joachim of Denmark, The British Royal Family, The Dynasty that ruled the Black Mountain, Prince William goes to St. Andrews, Britian mourns America's tragedy, Royal Wedding in Norway.......wedding of Crown Prince Haakon and Miss Mette Marit, and so many more royals. Mag has a tiny rip midway up the binding. $8