All Books on this page is $3.00 each and includes book # as well as the year of publication.
#16, 1982: Lisa knows she should break up with Lawrence. He's not
right for her and she knows it. But Lisa's got a big problem - she can't
say no. `lb anyone. So when Lawrence asks her to go steady, she
accepts (sort of) even though she's just met Alex. He's the boy Lisa
really likes and wants to see a lot more of. Now she has two
boyfriends but she's miserable.Lisa wants to straighten things out, but she's afraid of hurting

Lawrence. So she lives a double life of lies and confusion, trying to
keep Lawrence and Alex apart. And it works - until the night when
her lies go too far.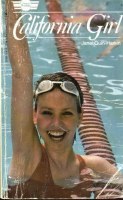 #6, 1981: In California, swimming was important and Jennie was
determined to be an Olympic competitor. But at her family's new
home in Texas, football is all anyone cares about. Jennie is alone, an
outsider, "that weird California girl."
Then she meets Mark. He was a football star until a serious injury left
him on crutches. Nobody pays much attention to Mark since his
accident - except Jennie. She's seen his beautiful drawings and is
falling in love with his artistic sou1.
Secretly, Jennie enters Mark's drawings in a contest, and overnight
Mark has his star status back. But he may be leaving Jennie behind. Jennie is so hurt
and confused that she isn't concentrating on her swimming. Did Mark ever really care
for her? Is Jennie losing her love and a chance at her Olympic dream?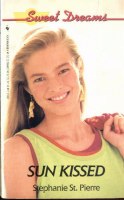 172, 1990: Even though it was her idea to break up with her
boyfriend, Jessie Statler can't help feeling jealous when he starts
dating another girl. So she's delighted when her grandmother invites
her down to Florida over spring break-until she learns that
well-meaning Nana has fixed her up with a guy she's never met!
A new romance is the last thing Jessie needs .Handsome, charming
Steve soon makes her change her mind. But is he paying attention to
Jessie because he really cares about her, or because her grandmother
asked him to?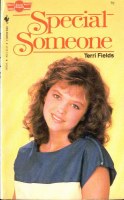 #70, 1984: Katie's plans for a super summer are destroyed when her
parents whisk her off to Arizona. Katie doesn't know a single soul,
and she's afraid it will be the most baring vacation of her life-until
she meets Dave.
For Katie, Dave's a dream come true - handsome, charming, and an
"older man," a college student taking summer courses at Arizona
State. Best of all, he seems to like Katie, too, and the difference in
their ages doesn't bother him a bit.
But Katie's hopes for romance are shattered when she learns that
Dave's plans are very different from her own. Suddenly Katie's not so sure that Dave's
her special someone.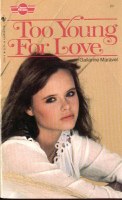 #27, 1982: It looks like Tom and Killy's friendship is turning into
romance. but then Tom finds out she's two years younger than the
other kids in school.

Killy is miserable, until she leaves the whole mess behind, for a
glamorous vacation in Italy.

When she gets back, she feels sophisticated and grown up. But will
Tom think so, too?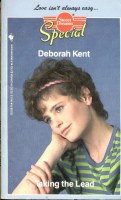 Specials #4: Shelley Sayers is devastated when her doctors tell her
she'll never be able to see again. Now even the simplest tasks-like
dressing herself or finding her way around the house-takes enormous
effort and patience. After mountain climbing, the thing she loves to do
most, is only a memory.
At a rehabilitation center, Shelley gradually learns to take care of
herself again. As she gains confidence she becomes friends with
Kevin Burns, a fellow climber, who encourages her to be
independent.
When Shelley returns home, she's determined to act like an ordinary high school
junior. She's thrilled when Tom Travis, one of the most popular boys in her class,
starts paying special attention to her. She loves how Tom drives her to school every
day and guides her through the crowded hallways-until Kevin suggests that Tom is
only interested in improving his image. Both boys say they have Shelley's best
interests in mind. But if she finds out that one of them has been her friend for the
wrong reason, will she have the courage to stand on her own?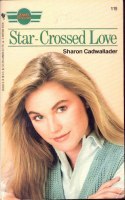 #119, 1987: Aspiring actress Blair Young is thrilled when she hears
that her school drama department is holding auditions for Romeo
and Juliet. Gorgeous Shane Lawson is a shoo-in for the part of
Romeo, and Blair sets her heart on becoming his Juliet- on and off the
stage. She's sure it's only a matter of time before Shane becomes her
leading man.
But then snobby Margie Mason steps on the scene, stealing the
role of juliet and taking center stage with Shane as well! Blair is
heartbroken, but fun-loving Charlie McGuire proves to be a
comforting friend. In fact, the more Blair sees of him, the more
confused she becomes. Is Charlie just a lovable clown-or could he
be the right boy for her?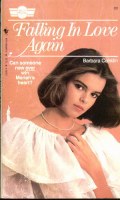 #23, 1982: Mariah's not one of those girls who's never been kissed.
She had a boyfriend. Once. It seems like a thousand years ago. But
Paul died, and Mariah thinks she'll never find anyone - special again.
She hadn't counted on the school play, though. Somehow her crazy
friend Amy ropes her into working on the props. Before she knows it,
Mariah's the understudy for the female lead And she can't help but
notice Dan Gordon, the male lead.
When Dan asks her out, Mariah doesn't know what to think. He's
sweet and funny and understanding - but she can't forget Paul. His
memory always seems to be between them.
Then Dan gets tired of being second best, and Mariah knows she must choose -
between Dan who loves her now, and Paul who loved her first....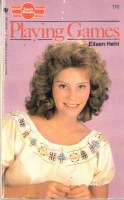 #110, 1986: Whether it's trying to walk five dogs at once, or
snapping a picture of her teacher when he's not looking, Kerry is a
pro at getting into impossible situations. And the first time she meets
Jon Madison is no exception. Kerry's attracted to the quiet, brainy
senior, but she doesn't think he'd ever fall for a zany girl like her.
Still, Kerry can't seem to forget Jon. She finally decides that the only
way to get his attention is to become more like him-more serious and
reserved. But resisting the urge to do something outrageous turns
out to be harder than she thought. Can Kerry learn to play the game
of love-and win?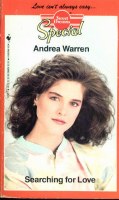 #3 of Special Releases: Being adopted has never bothered Deni
Lambert before, but lately she's become curious about her past.
Although Deni's adoptive mother treats her as her own child, Deni
often wonders if she could ever locate her natural mother.
Mike Hogan, a handsome intern at the local TV station. tion where Deni
works, thinks that Deni should leave the past alone. He's certain that
searching for her natural mother will only cause problems with Deni's
adoptive family.
When Deni finds an important clue to her natural mother's
whereabouts, Mike urges her to give up her search. Someone is bound to be hurt, he
says - maybe Deni herself. Mike and Deni have grown close, but Deni's search is
keeping them apart. Is finding the mother who left her at birth worth losing the boy
who loves her now?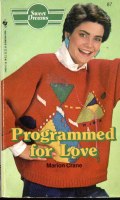 #87, 1985: Katie's first computer course turns out to be full of
surprises when the teacher assigns each student a secret computer
pal.
Katie begins exchanging electronic letters with her mystery partner,
STX11SO, and she's instantly intrigued. His letters are the funniest
and most honest Katie's ever read. But Bobby Allen, a boy Katie
really likes, is finally starting to notice her. And now that things are
going so well with her computer friend, Katie's afraid to encourage
Bobby-at least until she discovers who STX 1150 realty is.
Can Katie learn her computer pal's identity without losing her new love?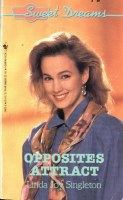 #180, 1991: Jessie LaFont and Dave Morton are both involved in a
local 4-H program, but that's the only thing they have in common.
.Jessie's main interests are fashion, friends, and fun. Dave is a
no-nonsense guy who works full-time on his fathers dairy farm.
In spite of the differences between them, Jessie~ knows she's failing
in love with Dave. A major 4-H project gives her the chance to prove
that they may have more in common than he thinks. Will their
friendship turn into rivalry or love?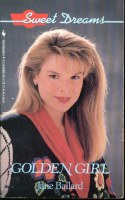 #169,1989. The only reason Claire Montgomery entered the
"Golden Girl" competition sponsored by Trent's Department Store is
that her brother dared her to. So she's stunned when she is chosen to
be Trent's spokes model in local television commercials. It's the most
exciting thing that's ever happened to Claire-and gorgeous Ben
Riley, the producer's son, is the most exciting boy she's ever met!
Ben is working on the Golden Girl promotion, and as he helps
transform Claire into a poised, sophisticated beauty, she's sure that
romance is in the air. But then she meets a glamorous blonde who
claims to be Ben's steady girlfriend, and her newfound confidence
collapses. It looks as though Ben already has a golden girl in his life. Claire is
determined to act professional, but is this the end of all her romantic hopes and
dreams?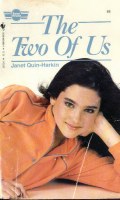 #65, 1984: It's only the first week of classes, but Stephanie's already
blown it with the in crowd of her new school. She knows she would
win their approval if she could just have one more chance.
What better way than to pose as her own twin sister and pass herself
off as a rock singer? It's a crazy scheme, but she pulls it off.
Sophisticated Stormy's an instant hit, and soon nobody even
remembers boring old Stephanie.
Nobody except Charles. He really seemed to care about Stephanie.
But what does he matter? Isn't the glamour of Stormy enough?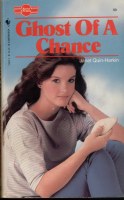 #53, 1984: Meredith Markham's not happy about spending the
summer taking care of her sick aunt in Maine. The weather is
miserable, she's stuck inside a spooky old beach house, and wont of
all, her boyfriend, Peter, is a thousand miles away.
Meredith resigns herself to daydreaming about Peter and writing to
her friends back home - until she meets Nat Franklin. He seems to be
everywhere, haunting her thought. and haunting her dreams. She
tries to put him out of her mind - after all, she has a wonderful
boyfriend, and Nat has a girlfriend, too. But it's not easy Will
Meredith be able to stay true to Peter during her summer by the sea?
There's only the ghost of a chance.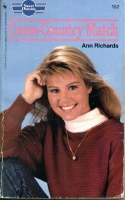 #152, 1988: For Liz Martin, being on her school's cross-country
team is the most important thing in her life. With a tough practice
schedule, and continued encouragement from her athletic father as
well as from Steve Keller, the team captain, Liz knows she can have a
winning season.
When Liz meets Tyler Haynes, a newcomer to Edenvale High's track
team, though, she begins to wonder what she's been missing in her
drive to become a championship runner. Liz has to admit that she's
fallen for Tyler, but is there room in her life for more than one
obsession?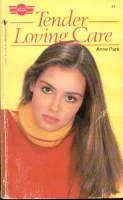 # 43, 1983: Juliet resents Neil from the moment she sees him. He's
just another runaway her social worker mother has taken in. But
there's not much Juliet can do. First he moves into their spare room,
then he enrolls at Juliet's high school
At first, Juliet's determined to keep Neil out of her life, But the harder
she tries to stay angry with him, the more she finds herself attracted
to him. Then Neil asks her for a date and she accepts ... but she's
scared. Is it safe to love him? Or will he run away again, just when
Juliet has opened up her heart?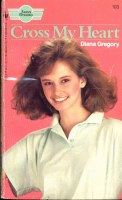 #103, 1986: Craig Markham has been Meg's best friend for years,
but now she wishes it was more than that, She's tried
everything-from moonlit walks on the beach to a daring new
swimsuit. But nothing seems to work.
Then handsome Mike Sanders asks Meg out. She goes-and they have
a wonderful time. But when Craig hears about their date, he gets
jealous! Meg has finally gotten Craig's attention, but now she's not so
sure he's the boy she wants.........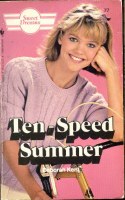 #77, 1985: I'll never make it, Rhonda thinks as she pedals under the
hot summer sun. Going on a bike tour of the Southwest was the last
thing she wanted to do. Although her parents insisted it would
"broaden her horizons," Rhonda only feels homesick for her
boyfriend, Bruce, and her comfortable life in Illinois.
But thing. change when handsome Matt Jordon becomes her friend.
Suddenly the bike trip is fun, and Rhonda begins to notice the
magnificent mountains and spectacular canyons. As the days pass, she finds
herself thinking more and more about Matt. But Rhonda can't be
falling in love with him-she loves Bruce. Or does she?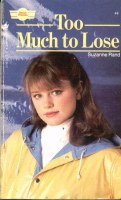 #49, 1983: When Suzy's boyfriend, drops her for another girl, the
hurt and anger are almost more than she can stand. She vows never to
get tied down to one boy again - it's just not worth the pain of
breaking up.
But Suzy's resolve to play the field breaks down when she meets
Mike Kelly. They're irresistibly drawn to each other, but Mike wants
Suzy all to himself. If she says yes, it means leaving herself wide
open for the agony of rejection again. If she says no, she might lose
him forever. What can Suzy do?
#160, 1988: Ronnie Wilson promised her parents she'd find a home
for her quarter horse Gingersnap a month ago when her family moved
to Honey Falls. Now time is running out, but Ronnie is reluctant
to trust her beloved horse with just anyone. Luckily, her new friend
Lone comes to the rescue by introducing her to Troy Bennett, whose
family owns Double B Riding Stables.
Ronnie is thrilled when Troy takes her to see the stables - she's found
the perfect place to board Ginger. She also has a definite case of "like"
at first sight after spending the day with cute, popular Troy! There's
only one hitch: Troy makes a hobby of collecting blue ribbons, and
Ronnie's determined to win a few herself? But if she wants to keep Troy, Ronnie may
have to make a sacrifice...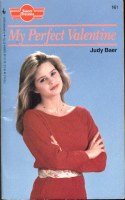 #161, 1988: Carissa Stevens is devastated when her boyfriend of
sixteen months, popular Glen Matlock, dumps her for a vivacious
cheerleader - and right before the Valentine Masquerade. Shy Carissa
believes she'll never have another boyfriend. But at her friend Julie's
suggestion, Carissa dries her tears and even joins the planning
committee for the dance.
Determined to show Glen she doesn't care, Carissa throws herself
into the whirlwind surrounding the upcoming dance and catches the
eye of fellow committee member Rafe Celton Her ploy is a success
- Carissa makes Glen so jealous he asks her to the Masquerade after
all. But is Glen her true Valentine?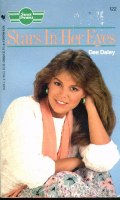 # 122, 1987: Until now, Linda Wills thought Shane Harley was out
of her league. After all, he's gorgeous and popular, and his band is a
big hit. Then Shane turns his attention toward her-and even sings a
love song to her in front of all her friends!
Linda is dizzy with love. Shane takes her to movies, for walks in the
park-he even introduces her to Italian pastries and cappuccino. Soon,
however, Shane starts showing up late for dates, or canceling them
all together. Linda is beginning to wonder whether them's really
room for her in Shane's world, and whether she should risk having
her heart broken.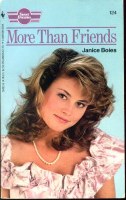 #124, 1987: Kelsey Kramer has given up the doting game. She's
been hurt too often, and she's decided that boys simply are not
worth the trouble. When gorgeous Shown Horton ~asks her to the
Homecoming Dance, Kelsey agrees to go-os long as he understands
they're just friends.
Kelsey is surprised to find that she is thinking about Shawn in a
romantic way. When Shawn announces that he'll be too busy to see
her for a while, Kelsey becomes more determined then ever to
protect herself from being hurt again. But will her no-dating rule
stand in the way of true love?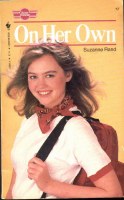 #57, 1984: Most of the kids in the Roughing It program seem to
have a lot more experience and confidence than Katie Carlisle. She
wonders if shell be able to keep up as they learn survival skills for
three weeks in the Adirondack wilderness. But Lisa, who becomes
Katie's instant best friend, is more than willing to lend a helping
hand whenever Katie hits a snag.
Then Jake Summers begins to take an interest in Katie, and Lisa's
attitude quickly changes. It's obvious that she and jake had
something going in the past and that Lisa is still in love with him.
Katie is crazy about Jake, but she doesn't want to hurt Lisa. Still, them's something
about Lisa's confession of her romance with Jake that doesn't quite ring true.